Initiated in the state of Gujarat, Trivio Pharmacy aspires to reach an incredible feat of establishing 500 stores in the state, replicate the same model in two other states, and by 2025, plans to start 2500 membership stores!
The entrepreneurial team of Trivio launched 51 stores in Ahmedabad. Trivio is founded on the acquisition model which led to the rapid and stellar growth of the brand. We multiplied the growth of Trivio by incorporating a strategy that helped medical store owners and created a stronger network of pharmacies and healthcare. Trivio focussed on amplifying the efforts towards fortifying stock management and marketing.
The approach and secret behind Trivio's success is three pronged. It stands tall on three important motivations:
1. To Help the Chemists
The concept of Trivio has addressed the existing problems and struggle of the individual pharmacies and shop owners. It has amplified ideas and solutions that have raised the bar for everyone and given more opportunities for every part of the supply chain to grow and succeed.
2. To Help the Customers
The customers in India face the problem of a lack of system and education that helps them solve their medical problems with better efficiency and ease. The lack of awareness and misplaced guidance has created serious health and logistical issues for the customers. With Trivio Pharmacy, the customers have received a better set of services at one-stop.
3. To Generate Employment
With the beginning of a new and massive initiative like Trivio Pharmacy, the society has gained a new set of employment opportunities while scaling up the access to market and customers for the individual pharmacists and shop-owners. This has led to creation of employment for different strata of the society.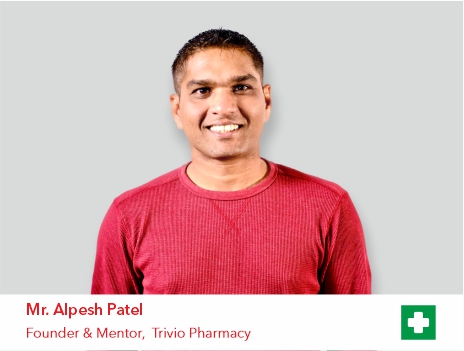 Meet the Leader of Trivio's Innovation,
Mr. Alpesh Patel
Alpesh Patel graduated from Shri Sarvjanik Pharmacy and moved to the USA where he created an incredible pharmacy chain, Pharma Distribution. His education and experience led him to reimagine the world of healthcare and the concept of pharmacies. He focussed on blending technological advancement with the healthcare network which will create a society which has offers a more affordable access to healthcare services.
Alpesh's vision for India's pharmacy market and healthcare system will fill all the loopholes in the existing system like polypharmacy and the missing understanding of drug-drug interaction.
The idea of Trivio is gaining momentum with the extraordinary leadership and goals of Mr. Alpesh Patel and most importantly, his idea of unifying the existing pharmacy network with the innovative capacity of technological advancement.
Better Margins through Trivio Purchase

Brand
Value

Marketing
Support

Staff Training &
recruitment support

USA based SOP &
QC Process
[tlpteam id="145" title="Team Triviology"]